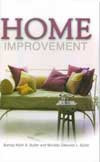 Home Improvement
$4.99 $14.95
Is there room for improvement at your house?
Have the fires of marital bliss turned to smoldering embers in your marriage? Do you wonder how you and your spouse will ever see eye-to-eye and live together in harmony? Do financial pressures and conflicts about child-raising have you at each other's throats?
You don't have to have a severe problem to realize there's room for improvement in your home and family life. In this book, Keith A. Butler and his wife, Deborah L.Butler, offer candid solutions from God's Word for marriages in crisis, as well as marriages caught in the doldrums of old routines and the cares of everyday life.

Chapter titles include:

Whether you have a family crisis or just want to enhance your family relationships, you can improve the quality of your home life from the teaching contained in this book.
Author: Bishop Keith A. Butler & Pastor Deborah Butler

Publisher: Word of Faith
ISBN 13: 978-0985559366